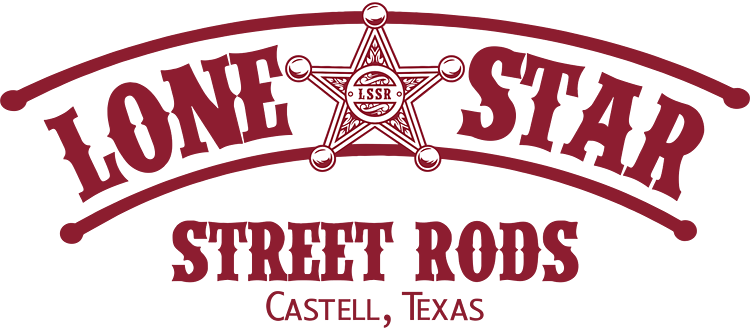 Lone Star Street Rods is a full service, professional, "One-Stop-Shop" custom street rod shop located in Castell, Texas. Performance shop owner, Gunner Hall, has over 30 years experience in the street rod industry as an award winning restoration specialist and is committed to being recognized as one of the leaders in providing a quality, hand built custom street rod with a modern twist as well as a man of integrity. Lone Star Street Rods' name is synonymous with rolling pieces of art that are truly of master craftsmanship!

We have produced many national as well as local show-winning automobiles. We build custom street rods to your specifications and each project is given our uncompromising attention to detail and quality with innovative design and driveability as important features. We do not sacrifice quality for quantity and every project will be completed to our high standards. Whether you need a full build up of a car/truck, custom fabrication work or just repairs performed on your existing creation, we are the shop for you.

At Lone Star Street Rods, our goal is to exceed your expectations and strive for perfection! We offer impeccable customer service and build great customer relationships. We pride ourselves in becoming close personal friends with our past customers. We are confident you will find the right combination of experience, ability, professionalism, reliability, artistry and dedication to quality. We have earned a well-deserved reputation of a professional, reliable, and a technologically advanced work environment. We are committed to providing unsurpassed workmanship for our clientele in a prompt manner, of which our achievements point to the successful implementation of this thinking. Our mission is to help fulfill your dream of owning a quality street rod, which we will build and maintain with the highest level of care, just as if it were our own.

We anxiously await the opportunity to assist you with your next project, whether it is a few parts, a minor modification or a complete frame-off restoration.

Call us at 325.248.9775 to discuss your project and to transform your dreams to reality!

View our Completed Projects!


STREET ROD SERVICES PROVIDED IN HOUSE TO ENSURE QUALITY CONTROL

• Complete Frame-off Restorations

• Floor pan and frame rail repair and replace
• Unsurpassed, custom metal work and body modifications, including chopped tops and suicide doors to name a few.
• Super straight body work w/consistent 3/16" panel gaps

• Chassis Rebuilding and Repair
• Sandblasting of parts and underbody
• Award winning, exceptional, ripple free paint jobs... complete painting and color sanding
• Complete custom exhaust
• Sheet metal repair, shaping and replacement
• We build stock, performance, and fully dressed show car engines to your specifications as well as engine repair
• Specialize in modern fuel injection systems with super clean engine compartments
• Custom machining and parts fabrication
• A/C (Vintage Air dealer)
• Power steering, disc brake conversions, power windows and remote entry installations
• Interior components, new and custom dashboards, center consoles and seat replacements
• Electrical systems, complete car wiring and fuel injection wiring
• TIG and MIG welding
• Air Ride, performance and Mustang II front suspension
• High performance drive trains
• Lowering kits
• Right stance, right height, wheel/tire combination, interior design and paint scheme
• Detailed labor and parts charges per invoice
• Complete project management from start to finish.
• All frame-off restorations receive a professional photo shoot at project close.
• Photo CD entire build project.


| Home | About Us | Completed Projects |

LONE STAR STEEET RODS

Vintage Air Dealer

Castell, TX

325.248.9775



I am a whosoever... John 3:16


©2021 Lone Star Street Rods – Central Texas Street Rod Shops – Central Texas Classic Car Restoration Shop
Street Rods – Hot Rods – Custom Cars – Muscle Cars – Classic Cars – Vintage Cars – Classic Trucks – Vintage Air Dealer
Chevy Square Bodies – Central Texas Street Rod Shops